Even before Joe Biden supposedly won the 2020 election, the Democrats and America watched as he fumbled his speeches, stumbled around the podium, and needed a massive teleprompter to convey his emotions to voters. Still, while former President Donald Trump was the complete opposite, saying whatever came to mind, Biden moved forward, becoming the next President of the United States. And what followed was more of the same as the President fell trying to get on Air Force One, had an entire White House set built for him, and called for a cheat sheet with names and pictures of reporters on them. Sadly, as Biden spends more time in the White House, it appears that list continues to grow. 
Sharing an image on Twitter, writer Kate Hyde detailed how President Biden was caught with the cheat sheet that detailed each step he was to take while speaking with private sector leaders about the Federal-State Offshore Wind Implementation Partnership. While conveying his disappointment in the Supreme Court for upholding the Second Amendment, President Biden's cheat sheet was in clear view of the camera. And as mentioned above, it mapped out every step he was to take.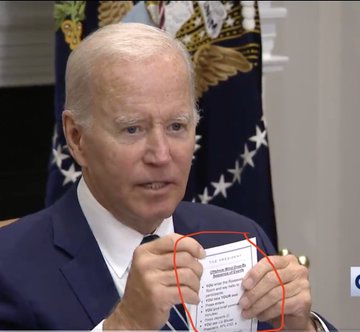 The cheat sheet read:
Offshore Wind Drop-By Sequence of Events
YOU enter the Roosevelt Room and say hello to participants
YOU take YOUR seat
Press enters
YOU give brief comments (Minutes)
Press departs
YOU ask Liz Shuler AFL-CIO President a question
Note: Liz is joining virtually.
YOU thank participants.
You depart.
Users online mocked the cheat sheet, writing, "Joe Biden isn't senile, guys. His handlers just have to give him step by step directions for every single thing that he does."
Even Jack Schneider addressed the paper, stating, "Biden had to have 'I was not articulating a change in policy' written verbatim on a notecard so he wouldn't screw it up… and he still screwed it up."
According to the Baltimore Sun, the goal of the meeting was to create a "formal partnership with 11 East Coast governors, including Maryland Gov. Larry Hogan, to boost the growing offshore wind industry, a key element of President Joe Biden's plan for climate change."