Back in February, Republican Representative Liz Cheney, who has been viciously critical of former President Donald Trump, reassured news outlets that she would not be engaging in a push to ask Democratic voters to switch parties to support her. Although just a few months ago, it is now being reported that voters have been receiving mailers that detail how a person can switch their party. And just in case some were wondering, the mailer came directly from the campaign of Liz Cheney. 
According to a picture posted online, the mailer stated, "How do I change my party affiliation to register as a Republican so I can vote for Liz? To change your party affiliation or to declare a new affiliation, complete the Wyoming Voter Registration Application & Change Form and submit it to your county clerk's office no later than 14 days before the primary election. You may also change your party affiliation at your polling place on the day of the primary or general election, or when requesting an absentee ballot."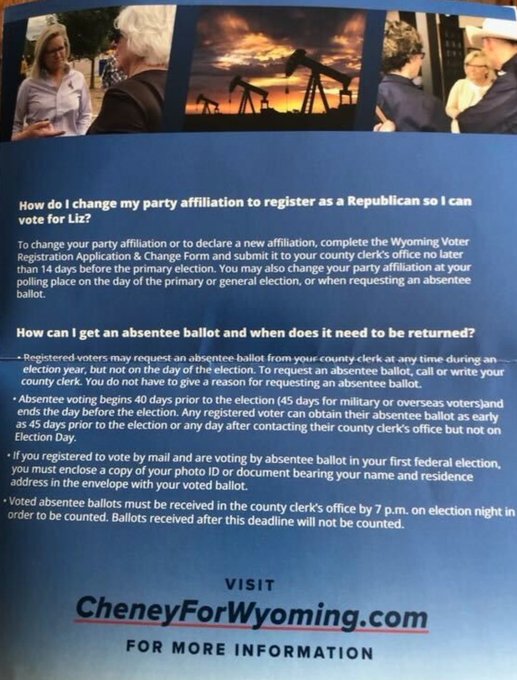 Wyoming Democratic Party chair Joseph Barbuto admitted that not only had he received a mailer, but his social media has been flooded with voters sharing images of the paper. "I haven't had any Republicans share online or tell me that they received it." He was sure to add, "Even if every Democrat in the state switched over. I don't think it'd be enough to help her."
With Cheney being considered a RINO after she voted to impeach former President Donald Trump along with 10 other Republican lawmakers, it seems that her base is quickly diminishing as Trump endorsed Harriet Hageman during the GOP primary in Wyoming. It should be noted that Cheney is only one of two Republicans on the January 6th committee as well. 
Still, as the primary is slated for August 16th, Cheney said back in September, "I am honored to represent the people of Wyoming and proud of my strong conservative record. It is tragic that some in this race have sacrificed those principles, and their duty to the people of Wyoming, out of fear and in favor of loyalty to a former president who deliberately misled the American people about the 2020 election, provoked an attack on the U.S. Capitol, and failed to perform his duties as president as the violence ensued."
At the same time, Hageman declared, "Like many Wyomingites, I supported Liz Cheney when she ran for Congress. But then she betrayed Wyoming, she betrayed this country, and she betrayed me. Every time Wyomingites see President Biden fail us and harm the interests of our nation and our state, they have Liz Cheney to thank."