Donald Trump may not be yet consistently beating Hillary Clinton in the polls, but he's trouncing Mitt Romney.
The 2012 Republican nominee for president trailed President Obama by nearly 1.5 times as much at this point in that race as the 2016 nominee trails Clinton today, according to the latest RealClearPolitics polling average.
"That third term is really tough. We don't see too many of these anymore."
Much could change between now and Election Day. Voters still have three presidential debates to evaluate, as well as a face-off between the vice presidential contenders. And that's to say nothing of late-breaking developments on the economy, terrorism, and foreign affairs.
At this particular snapshot in time, though, that landslide that some pundits predicted seems unlikely.
"That third term is really tough," University of Northern Iowa political science professor Justin Holmes said, noting that Clinton has the burden of defending Obama's record to an electorate eager for change. "We don't see too many of these anymore."
On Tuesday, Clinton led Trump in the RCP national average by 1.3 percentage points, 45.3 percent to 44 percent. Her margin was even narrower, 1.1 points, in polls that included Libertarian Gary Johnson and Green Party nominee Jill Stein. On the same date in 2012, Obama led Romney 48.3 percent to 45.2 percent, for a 3.1-point edge. Over the next few weeks, Obama would build his advantage, which peaked at 4 points on Oct. 1, before a furious rally by Romney that would see him pull ahead at times.
[lz_jwplayer video=C5U4hPCb]
In the end, of course, Obama outperformed his polling and won the popular vote by a 4-point margin.
In the current campaign, Trump's stumbles after the Democratic National Convention in July had many analysts expecting Clinton to run away with the election. Nervous Republicans began to fret that their party not only would lose control of the Senate but maybe even the House, as well.
"Now there's widespread panic among Democrats," said Candice Nelson, academic director of American University's Campaign Management Institute.
By the metrics of normal American politics, Clinton should have a healthy lead. She has vastly out-raised Trump and is swamping him on the airwaves. She has tons of experience, a relatively unified party, and a president of her party who enjoys approval ratings north of 50 percent.
What's more, Clinton has the support of dozens of Republican leaders and former officials, helping her make the case that Trump is too dangerous to be president.
Yet, they are close to tied, which has many political experts at a loss to explain it.
"The 2016 election is so different from past experience, none of us can have complete confidence," said Mark Peterson, a political science professor at the University of California, Los Angeles.
Peterson said Trump has "blown up all previous understanding of presidential politics."
Nelson said it should not be shocking that the race is competitive given the high negatives both candidates carry.
"We have two candidates who are very unpopular, and the email stories coming," she said. "The illness wasn't good for her. Things keep reinforcing people's belief that she can't be trusted."
Recent polling does not just indicate a close race but a wide-open one, geographically. Voters are used to states like Florida and Ohio playing kingmaker, and both are teetering between Clinton and Trump this time. The margin in the RealClearPolitics polling average is 5 points or less in 10 states.
Some polls have suggested much closer-than-usual contests in states that traditionally have either been deep red or deep blue. Clinton is essentially running even with Trump in Georgia, which has gone Democrat just once since Jimmy Carter won it in 1980. She also is close in Texas and at near parity in Arizona.
Meanwhile, three straight polls in Michigan, and two each in Wisconsin and Maine, pegged Clinton's lead at 5 points or smaller. All three states have voted Democrat for at least six consecutive presidential elections. And Trump consistently has led in Maine's 2nd Congressional District, which awards one Electoral College vote.
Some states even more heavily tilted toward the Democrats have suggested Trump may be competitive. Surveys earlier this month by Emerson gave Clinton a 4-point lead in New Jersey and a 3-point lead in Rhode Island.
The map below shows the fluidity of the race. States in gray have had at least one public poll since August that put the margin at 5 percentage points or smaller.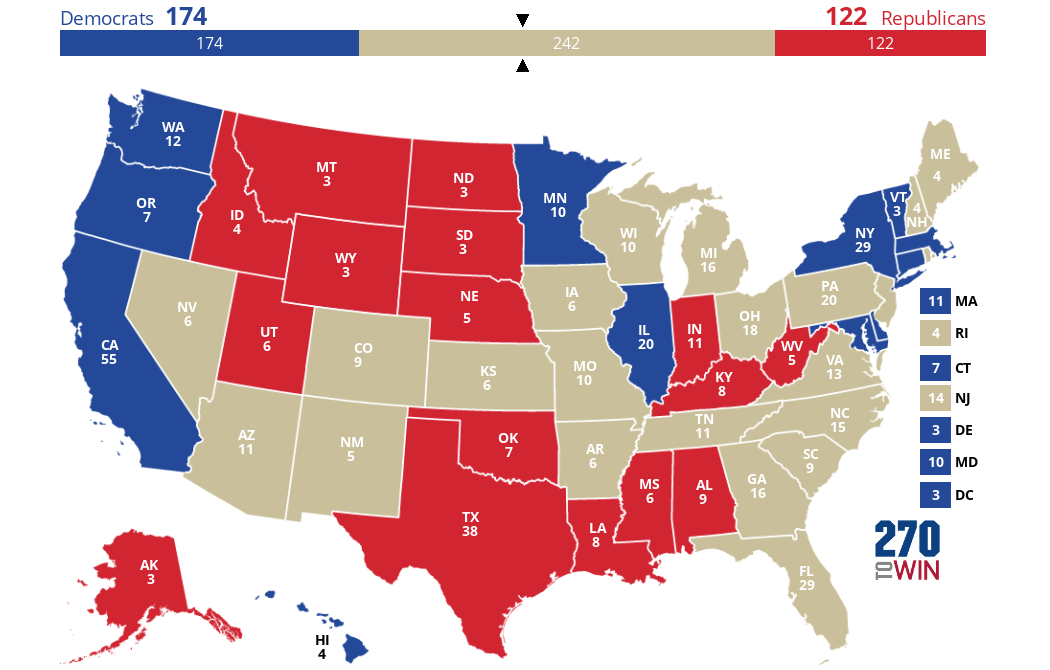 Click the map to create your own at
270toWin.com
Nelson said part of the explanation can be found in the fact that the conventional voting patterns may be scrambled.
"In some ways, it's kind of flipped," she said, noting that Clinton performs better than Democrats normally do among college-educated voters, while Trump's strength is with less-educated, working-class voters.
[lz_related_box id="196863″]
"He's speaking to a part of the electorate that's really disillusioned, that feels they're not getting their fair share and feel he's telling it like it is," she said.
Holmes, the Northern Iowa professor, said Trump has been able to set the terms of the campaign by dominating media coverage.
"She is just having a heck of a time getting her message out," he said. "And, frankly part of it's Trump. He is very good at sucking all the oxygen out of a room."
Still, even as the polls narrow, most experts believe Clinton retains the edge. Peterson said he doubts the final result will include too many surprises at the state level. He said he would be shocked if Clinton actually won Texas or Georgia, for instance, or if Trump carried Michigan or Wisconsin.
"If I had to guess … most of those states will fall back to where they've been," he said, before adding, "This is not a conventional election."