Ed Sheeran says buh-bye to screen life, but does he really mean it?
Like bugs under a magnifying lens, celebrities find the bright lights of social media a blessing and a curse. On the one hand, they can communicate directly with their fans. Huge plus. But fans can be horrible, merciless, cruel and ceaselessly hostile. Buzz kill. It's no wonder stars like singer-songwriter Sheeran are easily fed up.
But can celebrities really "quit" social media? We've heard it before from the rich and famous, and it's starting to sound a little like "The Boy Who Cried Wolf."
Sheeran is just the latest in a string of celebrities to disavow social media. A month or so ago, the Internet was abuzz with news that Instagram-famous Aussie model Essena O'Neill had not only quit the medium that had made her famous, she also spilled the beans that her popular photos were carefully composed and didn't adequately represent who she really is.
Oh? The celebrity photos we see aren't really candids? #NotNews
Fast forward one month, and she's still posting videos on her Vimeo channel. #NotQuitting
[lz_ndn video= 30064348]
Shortly thereafter, model Stina Sanders posted before-and-after photographs of her personal beauty regimen on her Instagram account. The result: even though her candid photos (visiting her therapist, chipped fingernails and unflattering selfies) garnered more likes than usual, she ended up losing thousands of followers. She didn't quit social media, but found the experience empowering, saying: "Just be happy in yourself and confident when you look in the mirror. It's so important to just be real."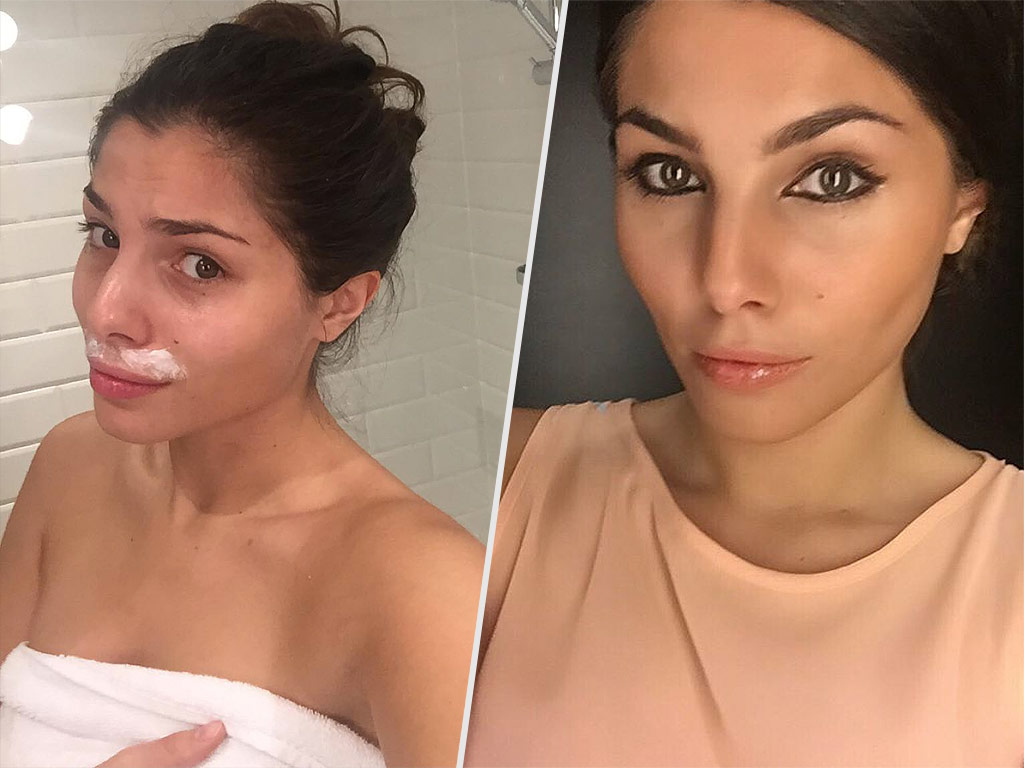 Sheeran was clear he wasn't quitting forever. He's breaking until "next autumn," he said. But fans should accept his vow with a healthy dose of skepticism.
We've heard it before from perennial social media target Iggy Azalea, temperamental singer Chris Brown,
Jay Electronica, and the sensitive Jennifer Love Hewitt, who quit because "people are just so mean on social media!" All have backed away from their accounts, disappointed and overwhelmed by the crass, candid nature of vox populi.
Then there's the enlightening story of musician Mase, who quit social media after the great Instagram fake follower purge caused him to lose 1.5 million fans overnight. His angry response ("F*** Instagram") highlights one of many issues celebrities are grappling to overcome in their online profiles. It's a liability to appear unpopular, so manipulating the system is common practice.
It's a classic case of faking it until you be making it. Peer validation, whether or not it's genuine, is the fast track to gaining genuine followers in most cases. It's a game most celebrities would never admit to playing.
Sheeran might well reflect the sentiment of a lot of teens and millennials when he candidly admitted that he was "seeing the world through a screen and not my eyes." He plans to use the break in his concert and recording schedule to "travel the world and see everything I missed."
The chances of him not sharing his memories on Instagram, where he has 5.5 million followers, are slim to none, even if he sticks to his guns and stops posting for the interim. If it's just a matter of delaying the posts until next year, does it really count as going "off the grid?" That's debatable.
It's hard to vanish entirely, even for a defined period. Only time will tell.
The better bet is that he won't stay off-grid for that long. Creating and retaining celebrity — and the commensurate sales from that fame — revolves around self-promotion on social media. If you aren't, in fact, "Internet famous," then you might not be famous at all.
Go offline and stay offline, and you might just be shooting your career in the foot.
Even those who do it out of principle can expect to have a hard time convincing people to care if they stop tweeting about their values publicly.